Daniel Radcliffe is an English actor who is most famous for playing Harry Potter, the titular character in the Harry Potter film series.
Outside of the Potter films, Radcliffe has had a number of appearances in television shows, films and stage productions. Most notably, Radcliffe appeared in both the West End and Broadway revivals of Equus, which earned him a nomination for a Drama Desk Award but also generated controversy because his character appeared nude in several scenes.
On The Simpsons, Radcliffe has appeared in "Treehouse of Horror XXI", voicing a vampire named Edmund in a segment that parodies the Twilight novel and film series, His character Harry Potter has also appeared (voiced by Nancy Cartwright) in a couple of episodes of The Simpsons. He made a return role as Diggs in the episode of the same name.
Al Jean mentions that Daniel is such a big fan of The Simpsons that he owns every DVD and even listens to the audio commentaries.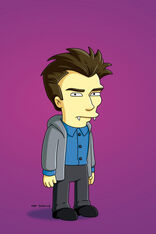 Appearances
External links
Ad blocker interference detected!
Wikia is a free-to-use site that makes money from advertising. We have a modified experience for viewers using ad blockers

Wikia is not accessible if you've made further modifications. Remove the custom ad blocker rule(s) and the page will load as expected.