Ad blocker interference detected!
Wikia is a free-to-use site that makes money from advertising. We have a modified experience for viewers using ad blockers

Wikia is not accessible if you've made further modifications. Remove the custom ad blocker rule(s) and the page will load as expected.

Cyrus Herbert Simpson is Abe's older brother. Cyrus was born in Scotland (he is not Scottish because he does not speak with a Scottish accent) but emigrated to the USA as a child with his family. They were both Navy pilots in World War II, serving together before the Sullivan law was enacted to prevent this. It is unknown if Abe Simpson was assigned to the Flying Hellfish before or after this. Cyrus' plane crashed and was not seen for years after. Cyrus remained in Tahiti where he retired. He now lives with his 15 wives, which he mentioned to Abe Simpson.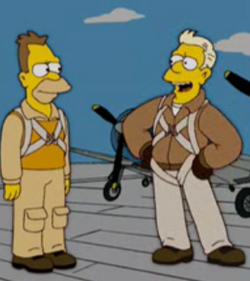 Appearances
Edit
Simpson family
Simpson Family

Homer Simpson •

Marge Simpson •

Bart Simpson •

Lisa Simpson •
Maggie Simpson •


Santa's Little Helper •

Snowball V
Homer's living relatives

Abe Simpson •

Abbie •

Herbert Powell •

Tyrone Simpson • Dr. Simpson •
Cyrus Simpson •

Chet Simpson • Stanley Simpson • Bill Simpson • Frank Simpson • Cyrus's 15 wives
Marge's living relatives

Jacqueline Bouvier •

Selma Bouvier •
Patty Bouvier • 40px Ling Bouvier •

Jub-Jub
Homer's deceased relatives

Amber Simpson

Mona Simpson • Hubert Simpson •

Hortense Simpson
Orville Simpson • Bonita Simpson • Elrita Simpson • Twitta Simpson •

Yuma Hickman

"Old Tut" Simpson •
Gaston Simpson • Hugo Simpson • Dulcine Simpson • Lou Simpson • Floyd Simpson •

"Happy" Simpson

Howland Simpson • Zeke Simpson • Pippa Simpson •
Gabby Crouse

Garwood Simpson • Ivy Simpson • Galston Simpson • Prudence Simpson • Trixie Simpson •

Clowta Stillman

Rupert Simpson •

Lambert Simpson •

Winifred Running Goat • Humphrey Little Goat • Jane Nervous Goat


Sven Simpson •

Claretta Ethridge • Mary Frowning Cloud • Joe Puffing Goat
Marge's deceased relatives
Clancy Bouvier • Gladys Bouvier • Alvarine Bisque • Arthur Bouvier • Alfreda Bouvier II • Françoise Billout • Antoine Bouvier • Axel Bouvier • Bambi Bouvier • Charlene Bouvier • Chester Bouvier • Dorothé Bouvier • JoJo Bouvier • Monique Bouvier • Pépé Bouvier • Victor Bouvier • Victor Bouvier II • Cléo Bouvier • Didi Bouvier • Ferdinand Gurney • Gladys Gurney • Honoré Bouvier • Alfreda LeDoux • Angelique Marceau • Marcel Bouvier • Bambi Petitbois • Pierre Bouvier • Rowena Bouvier • Yves Bouvier
Non-canon Characters

Hugo Simpson • Maggie Jr. • Bart Simpson, Jr. • Bart's Elder Son • Bart's Younger Son • Captain Kidney Pie • Colonel Custard • Maggie's Husband • Man O' Pies • Pieman of the World • Señor Fritatta • Zia Simpson
Other Pets
Bart Junior • Chirpy Boy and Bart Junior • Coltrane • Duncan • Greyhound Puppies • Henry the Canary • Laddie • Lou • Mojo • Pinchy • Plopper • Princess • Smiley • Snowball I •

Snowball II • Snowball III • Snowball V • Snuffy • Stampy • Strangles • She's the Fastest