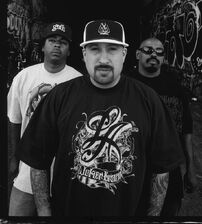 Cypress Hill makes a guest appearance on the episode "Homerpalooza." The band travels with Homer on the hullabalooza festival where Homer is the man getting hit by the cannonball. They also ended up getting the London Symphony Orchestra that was originally going to be for Peter Frampton's performance, after a mixup due to their last minute arrival. The songs which are performed by Cypress Hill in this episode are "Throw Your Set In The Air" and "Insane In The Brain".
Ad blocker interference detected!
Wikia is a free-to-use site that makes money from advertising. We have a modified experience for viewers using ad blockers

Wikia is not accessible if you've made further modifications. Remove the custom ad blocker rule(s) and the page will load as expected.