Curious Bear Cub is a character on The Happy Little Elves who is a small bear who helps them out. He appears on "The Happy Little Elves meet the Curious Bear Cub", where he goes on an adventure with Doofy to save Bubbles. Though he hasn't properly appeared since then, many merchandise can be seen of him like a huge cell of him with Yendor that Lisa has on her wall.
Appearance
Most Episodes (Lisa has a painting of him on her bedroom wall)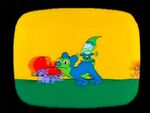 Ad blocker interference detected!
Wikia is a free-to-use site that makes money from advertising. We have a modified experience for viewers using ad blockers

Wikia is not accessible if you've made further modifications. Remove the custom ad blocker rule(s) and the page will load as expected.