Cosine Tangent is a member of The Superfriends. His nickname suggests that he likes trigonometry (Cosine is one of the three trigonometric ratios, along with Sine and Tangent). He is of Asian appearance.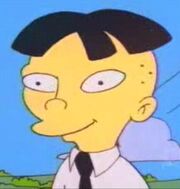 History
After he and the other Superfriends were informed by Bart of a comet approaching Springfield, they headed by bike on their way to the observatory.[1]
Appearances
Citations
Ad blocker interference detected!
Wikia is a free-to-use site that makes money from advertising. We have a modified experience for viewers using ad blockers

Wikia is not accessible if you've made further modifications. Remove the custom ad blocker rule(s) and the page will load as expected.