Colonel Homer
Talk

1
17,301 articles being
edited here
"They don't call me Colonel Homer because I'm some dumb-ass army guy."
"Colonel Homer" is the twentieth episode of Season 3. It aired on March 26, 1992. Matt Groening wrote the episode and Mark Kirkland directed. Beverly D'Angelo guest stars as Lurleen Lumpkin.
After a particularly bad movie experience, Homer drives to a bar where he discovers a singer named Lurleen Lumpkin. Now, Colonel Homer is her manager, much to Marge's disgust.
Full Story
Edit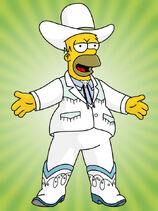 Homer and Marge go see a movie but Homer doesn't shut up in the theater. He eventually goes as far as to giving away the ending to the film and the audience boos him. Marge yells at him telling him nobody cares what he thinks which the audience cheers for but leaves him embarrassed. Homer drives off to a country bar to think about what happened when he meets a waitress named Lurleen Lumpkin who sings a song that he falls in love with. Homer returns home but can't get her song out of his head. He goes bowling and while singing Lurleen's music to his ball bowls a 280. Lenny sings "There's a Kind of Hush" to his ball to try to bowl better - a classic example of the Post Hoc fallacy. He drives back and decides to get the song recorded. It is given to the local radio station and the song is an instant success. Homer becomes Lurleen's manager, "Colonel Homer," much to Marge's objection. Lurleen wants more from Homer than him being her manager, but Homer cares for his wife and kids and decides he made the right choice. The episode contains a classic Hew Haw parody, as Homer and Marge get naked in their bed and have sex.
Citations
Edit