Ad blocker interference detected!
Wikia is a free-to-use site that makes money from advertising. We have a modified experience for viewers using ad blockers

Wikia is not accessible if you've made further modifications. Remove the custom ad blocker rule(s) and the page will load as expected.

"Clown in the Dumps" is the first episode of Season 26. It premiered on September 28th, 2014.
Krusty the Clown retires after he's offended by a comedy cable channel roast of him and because his father dies before telling him whether or not Krusty is funny. Meanwhile Lisa tries to protect Homer from getting sick and getting hurt.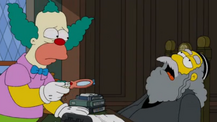 Krusty is roasted by fellow comedian Sarah Silverman. He feels offended by the jokes told about him, so he decides to go to his father, Rabbi Krustofsky, for comfort. When he asks him if he thinks he is funny, the rabbi just replies, "Eh," and unexpectedly passes away.
At Rabbi Krustofsky's funeral, Krusty talks about how hard it is to lose a father, which worries Lisa, as she notices Homer's lazy and unhealthy lifestyle. She begins to become obsessed with protecting him from harm.
Meanwhile, Krusty stresses out over the fact that his father did not find him funny, and apparently favoured another rabbi's sense of humour over his. He retires from show business after watching a cruel Itchy & Scratchy cartoon he produced. Bart tries to cheer him up by showing him reruns of his show, but Krusty notices that his jokes are overly repetitive and sinks deeper into depression.
Krusty is visited by his father in a dream, who tells him to be more productive with his life. He tries to open an animal shelter (which was the former KrustyBurger slaughterhouse), but still feels he has unfulfilled his father's request. Bart then tells Krusty to follow him.
At the Simpson home, Lisa wraps Homer in bubble wrap as he sleeps. When he wakes up, Lisa tells him she just wanted to protect him, to which Homer replies that she can't always save him from harm, and that he could live a long life or he could be hit by a bus and there would be nothing she could do about it. He then gets hit by a school bus driven by Otto, but is saved due to the bubble wrap Lisa put him in.
Bart takes Krusty to the synagogue featuring the rabbi Krusty's father liked over him. Krusty then notices that his jokes are identical to his, and realizes that his dad liked his sense of humor all along and is happy once again. Bart then points out that he may have liked his jokes but hated his delivery of them, to which Krusty angrily yells that, "He liked my jokes!"
Citations
Edit