Ad blocker interference detected!
Wikia is a free-to-use site that makes money from advertising. We have a modified experience for viewers using ad blockers

Wikia is not accessible if you've made further modifications. Remove the custom ad blocker rule(s) and the page will load as expected.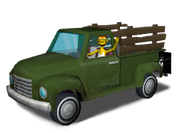 Cletus' Pickup Truck
is a green pickup modeled after the
Chevrolet Advance Design
series, produced from 1947 to 1955.
In the videogame The Simpsons: Hit and Run, it is an unlockable vehicle. To get the car, you must complete the bonus mission on level 1. The bed is full of crates, and when the truck is in motion chicken feathers fly out.
| | | |
| --- | --- | --- |
| | D'oh! | This article is a stub. You can help the wiki by embiggening it. |