Clancy Bouvier
Talk

5
9,899 articles being
edited here
Clancy Bouvier

Gender
Status
Hair
Blue, formerly Brown
Age
59
Occupation
Navy, Baby Photographer, Flight Attendant
Relatives
Parents: Bambi and Pépé Bouvier


Wife: Jacqueline Bouvier
Daughters: Patty, Selma and Marge
Son-in-Law: Homer Simpson
Siblings: Chester, Charlene, Arthur, JoJo and Herman
Grandchildren: Bart, Lisa, Maggie, Hugo (non-canon), Bartie (non-canon), Ling


First Appearance
"The Way We Was"
Voiced By
Harry Shearer
Clancy Bouvier (1928-1993) was the husband of Jacqueline Bouvier. He was the father of Patty, Selma, and Marge Bouvier; he was the grandfather of Ling Bouvier and Maggie, Lisa, Hugo (non-canon), and Bart and Bartie Ziff (non-canon). He is of French origin.[1][2]
Biography
Edit
Traits in common with Patty and Selma
Edit
Like Patty and Selma, he agrees on many things with them, but is the only other member of the Bouvier family that harbors no hatred of Homer Simpson. Also like Patty and Selma, he was a chain-smoker. This is probably how Patty and Selma took up smoking.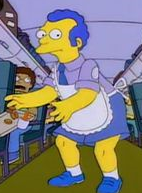 It was revealed that he was one of the earliest male flight attendants, although he was ashamed of it, as he tries to tell Marge not to look at him when she sees him on the plane as a flight attendant, which resulted in her fear of flying.[3] At some point, he also served in the United States Navy where he picked up a swearing problem, which nearly cost him his job as a Baby Photographer[4]. Shortly after Clancy got out of the Navy, he got married in 1951 at the age of 23.
Like of Homer
Edit
Clancy first met Homer in 1983 when he showed up at the Bouvier home claiming to be Marge's prom date. He was kind and complimentary to Homer, saying, "From what she's told me, I'm sure you're a solid citizen." Whether Marge had 'sugar coated' her description of Homer, or she had in fact been describing Artie, is unclear.[5]
It is revealed later that his behavior may have just been common courtesy: When Marge returned home after the prom, she overheard her father stating that "when that Simpson boy showed up, it took years off [his] life", to which her mother replied, "Will you stop? She went with the good one." (She was referring to Artie.)
Non Canon Deaths
Edit
The cause or time of his death is undetermined. In an issue of the comic Simpsons Illustrated, Lisa attributes his death to an accident involving a roller coaster, but whether this is canon is unclear. What is known is that his death occurred some time after Marge met Homer and before she married him. He got her a "white-noise machine" to help her deal with his death. Clancy died in 1993 from a heart attack due to his chain smoking.
In one Treehouse of Horror episode, he was eaten by King Homer at his and Marge's wedding.
Appearances
Edit
References
Edit