The Civil War Prison and Museum of Sideburns is a civil war prison and museum of sideburns on Weasel Island.
History
It was originally a Civil War Prison used by the Union Army to house captured Confederate Soldiers. It has just one bed per room. It was known to punish Confederate Soldiers for what the poor conditions at the
Andersonville Prisoner of War Camp
in
Andersonville, Georgia
.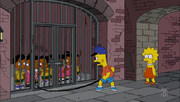 Today
Currently it is a museum for sideburns. You can also come in and see the prison and even go inside the cells. It is also near the Weasel Island Amusement Park. It also has a Fortune Teller machine near the Prison.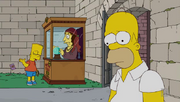 Appearances