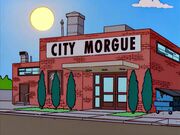 The City Morgue is a morgue located in Springfield, the morgue has only been shown twice in. The morgue is ran by Dr. Julius Hibbert, senior citezens like to stay inside the morgue during heatwaves but the morgue is reserved for the recently deceased.
Description
The morgue is a single story red brick structure with a dumpster located to the right of the building.
Appearances
Ad blocker interference detected!
Wikia is a free-to-use site that makes money from advertising. We have a modified experience for viewers using ad blockers

Wikia is not accessible if you've made further modifications. Remove the custom ad blocker rule(s) and the page will load as expected.