Ad blocker interference detected!
Wikia is a free-to-use site that makes money from advertising. We have a modified experience for viewers using ad blockers

Wikia is not accessible if you've made further modifications. Remove the custom ad blocker rule(s) and the page will load as expected.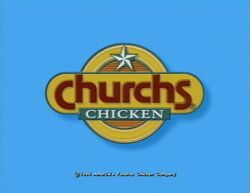 Church's Chicken is a fast food reasurant chain that specializes in fried chicken has been running since 1952 and is still in operation today. The Simpsons have appeared in a couple advertisements for the restaurants.
List of commercials
Edit
| Screenshot | Summary | Description |
| --- | --- | --- |
| | Picnic | The family enjoys some Church's Chicken for a picnic. Homer likes how sticky his fingers get, but changes his mind when some bullies' football gets stuck on his hand. |
| | Piggy Bank | Homer sees a Church's Chicken truck pass by outside and longs for some quickly. He swipes Bart's piggy bank for money and runs to truck through the street. Once on the car, the driver is freaked out and stops the car, sending Homer flying through a Church's restaurant. He grabs some food as he passes through, but soon hits a wall and his items go flying up in the air and land in Bart's hands. |
See also
Edit