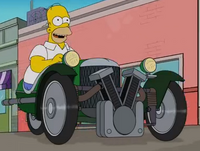 Chubby Dude in a Tiny Car
is a song sung by
Homer
,
Lenny
,
Carl
and
Barney
during the episode
To Courier with Love
. It shows Homer driving his little Morgan Through Springfield.
Later in the episode, Chief Wiggum also sings a version of the song as he drives the "impounded" vehicle through Springfield.
Lyrics
Homer: Chubby dude in a tiny car
Making friends both near and far.
In this little town he's a shooting star!
That's a chubby dude in a tiny car!
Homer, Lenny and Carl: From Shelbyville to Zanzibar
It doesn't matter where you are.
Barney: There's not a thing that can com-par!
Homer, Lenny and Carl: To a chubby dude in a tiny car!
Chief Wiggum's version
Chief Wiggum: Chubby cop in a tiny car
Going to the nearest cop bar
Ad blocker interference detected!
Wikia is a free-to-use site that makes money from advertising. We have a modified experience for viewers using ad blockers

Wikia is not accessible if you've made further modifications. Remove the custom ad blocker rule(s) and the page will load as expected.