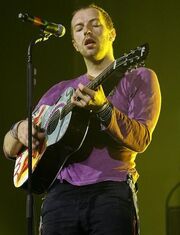 | | |
| --- | --- |
| | It has been suggested that this article be split into multiple articles (with a disambiguation page in case of confusion). (Discuss) |
Chris Martin is the lead singer of the British alternative rock band Coldplay. Homer hires out an entire room just to hear them play. He asks Homer if he wants to join their band but he declines.
Appearence
Ad blocker interference detected!
Wikia is a free-to-use site that makes money from advertising. We have a modified experience for viewers using ad blockers

Wikia is not accessible if you've made further modifications. Remove the custom ad blocker rule(s) and the page will load as expected.