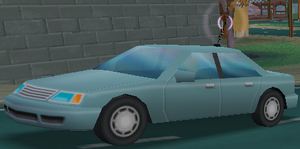 The Cell Phone Car is a special vehicle in The Simpsons: Hit and Run. It makes an appearance in the last mission on the second level, "Cell-Outs", where four of them are destroyed in order to keep the Truckasaurus from malfunctioning. The car can be obtained but you need 100%, and has a distinct feature, a cell phone antenna mounted on the roof. Also it should be noted that the driver has no face, and appears as a low set of polygons on the model.
Gallery
Ad blocker interference detected!
Wikia is a free-to-use site that makes money from advertising. We have a modified experience for viewers using ad blockers

Wikia is not accessible if you've made further modifications. Remove the custom ad blocker rule(s) and the page will load as expected.