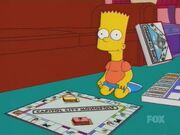 The Capitol City Monopoly is a board game which is very popular in Capital City.
History
When Milhouse moved back to Springfield from Capital City, he gave the game to Bart and Lisa. In the game, Baltic Aveneue was now Wayne Street, which Milhouse thought was awesome.
After Bart had understood that Lisa was mad at him, he wanted to play the game with her. Lisa refused, so Bart threw the dice for her which let her pick up all the chance cards. Lisa then learned that Bart had replaced them with cards he made. They contained nice things he will do for her on them, and the two hug.
Behind the laughter
It's a parody of Monopoly.
Appearances
Ad blocker interference detected!
Wikia is a free-to-use site that makes money from advertising. We have a modified experience for viewers using ad blockers

Wikia is not accessible if you've made further modifications. Remove the custom ad blocker rule(s) and the page will load as expected.