The Canyonero is a trademark Sport Utility Vehicle (SUV) in The Simpsons. It was endorsed by Krusty the Clown when it first appeared in "The Last Temptation of Krust". It is a large red SUV and was introduced just as the SUV craze began to hit the United States. The design is basically a parody of the large SUV and the "I own an SUV, therefore, I own the road" style of driving. The theme song helps to demonstrate this. Homer buys a red Canyonero in Marge Simpson in: "Screaming Yellow Honkers" (according to Marge, he used their 401K savings to buy the Canyonero), but soon realizes he bought the F-series. ("F" presumably stands for "Female".) The only difference between it and the normal model is the cigarette lighter being replaced by a lipstick holder. He refuses to drive it, not wanting to be seen as a homosexual (especially when Lenny and Carl proceeded to mock him for driving it); when Marge drives it, it sends her into a state of road rage. It is actually a parody of a Jeep Wagoneer, and while also having similarities to the Ford Excursion. It also worth noting the similarities in exterior design between the Simpson family station wagon and the Canyonero, from the basic outline to the color. One might say that it is simply the Simpson's wagon on a truck frame and with an angled front fascia.
Theme Song
The theme song was sung by Hank Williams, Jr.
Original version:
(Hank, Jr.) Can you name the truck with four wheel drive, Smells like a steak and seats thirty five? Canyonero! Canyonero! Well, it goes real slow with the hammer down, It's the country-fried truck endorsed by a clown, Canyonero! Canyonero!
(Krusty) Hey, hey!
"Telling it like it is" version:
12 yards long, 2 lanes wide, 65 tons of American pride! Canyonero! Canyonero! Top of the line in utility sports, Unexplained fires are a matter for the courts! Canyonero! Canyonero! She blinds everybody with her super high beams, She's a squirrel-squashin', deer smackin' drivin' machine, Canyonero! Canyonero! Canyonero! Whoa, Canyonero! Whoooooaaaa!
Trivia
The Canyonero is Marge's car in The Simpsons Road Rage and in The Simpsons: Hit and Run. With the use of a cheat code, a Thanksgiving version of Marge and the Canyonero can be used on Thanksgiving in The Simpsons Road Rage.
65 tons is a weight heavier than most tanks; likewise, "12 yard long, 2 lane wide" exceeds the dimension of even the largest functional tank in history, the Panzer VIII Maus. http://www.achtungpanzer.com/panzerkampfwagen-viii-maus-porsche-typ-205-tiger-iip.htm
The Canyonero is likely a parody of the Jeep Wagoneer, but it has some resemblance to a 1980s Range Rover and size dimensions similar to a Chevrolet Suburban or Ford Excursion.
The name 'Canyonero' inspired the name of an SUV from the 2006 racing/derby game Need For Madness, and it's sequel, Need For Madness 2.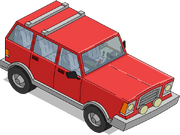 Appearances
Gallery