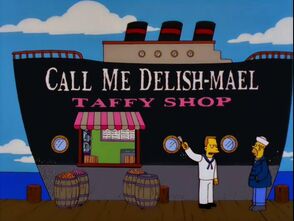 Call Me Delish-Mael is a taffy shop that Homer mistakenly recognizes as a ship, as it is shaped like a ship. He goes there after escaping from the hospital where he was due to donate a kidney to his father, Abe Simpson. This shop's name is a reference to the first line in Moby Dick: "Call me Ishmael."
(Conversation between Homer and the clerk)
Homer: Um, can I be a mate on your ship? Preferably first mate.
Guy: Well, if you'll look closely, you'll notice this is a taffy shop, shaped like a ship. [camera pulls out to show that he's telling the truth]
Homer: Ooh! I like taffy, but I don't deserve taffy!
Appearances
Ad blocker interference detected!
Wikia is a free-to-use site that makes money from advertising. We have a modified experience for viewers using ad blockers

Wikia is not accessible if you've made further modifications. Remove the custom ad blocker rule(s) and the page will load as expected.