Ad blocker interference detected!
Wikia is a free-to-use site that makes money from advertising. We have a modified experience for viewers using ad blockers

Wikia is not accessible if you've made further modifications. Remove the custom ad blocker rule(s) and the page will load as expected.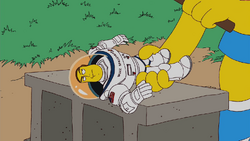 Buzz Lightyear
Buzz Lightyear is a Spaceman or Space Ranger toy who appears in Toy Story
Buzz is best friends with Woody the Cowboy and a Boyfriend to Jessie the Cowgirl.
Woody is the leader of the Toys, But Buzz is the second Leader of the Toys.
Buzz Lightyear doesn't appear in The Simpsons, But a toy that says Buzz Spaceyear Toy is a parody of Buzz Lightyear.
Status: Alive: only when People are not around
Family: Andy (owner), Woody (best friend) Jessie (girlfriend) and Andy's Toys (friends)