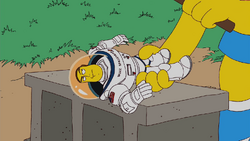 Buzz Lightyear
Buzz Lightyear is a Spaceman or Space Ranger toy who appears in Toy Story
Buzz is best friends with Woody the Cowboy and a Boyfriend to Jessie the Cowgirl.
Woody is the leader of the Toys, But Buzz is the second Leader of the Toys.
Buzz Lightyear doesn't appear in The Simpsons, But a toy that says Buzz Spaceyear Toy is a parody of Buzz Lightyear.
Status: Alive: only when People are not around
Family: Andy (owner), Woody (best friend) Jessie (girlfriend) and Andy's Toys (friends)
Ad blocker interference detected!
Wikia is a free-to-use site that makes money from advertising. We have a modified experience for viewers using ad blockers

Wikia is not accessible if you've made further modifications. Remove the custom ad blocker rule(s) and the page will load as expected.