Buzz Aldrin
Talk

0
12,568 articles being
edited here
Buzz Aldrin

Aldrin at the time of the Apollo 11 mission.
Guest Star Information
Gender
Male
Born
January 20, 1930
Nationality
USA
Claim to fame
Astronaut (Second man on the Moon)
Character
Himself
First appearance
"Deep Space Homer"
Edwin Eugene "Buzz" Aldrin, Jr. is an astronaut whose claim to fame is being the second man on the moon.
Aldrin was the Lunar Module pilot on Apollo 11, the first manned space space mission to land on the Moon. On July 20, 1969, Aldrin became the second man to walk on the moon, immediately following mission commander Neil Armstrong.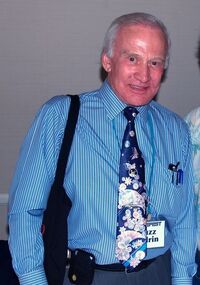 Aldrin is a veteran of the
United States Air Force
, serving from 1951 to 1972. After retiring from the Air Force, Aldrin continued to work with
NASA
in an advisory capacity. He is also an author, having published two autobiographies:
Return to Earth
in 1973 and
Magnificent Desolation
in 2009.
Aldrin acquired his nickname "Buzz" in childhood. He made it his legal first name in 1988.
On The Simpsons, Aldrin appeared as himself in the episode "Deep Space Homer", flying on the space shuttle along with Homer Simpson and astronaut Race Banyon.
Appearances
Edit
External links
Edit