Ad blocker interference detected!
Wikia is a free-to-use site that makes money from advertising. We have a modified experience for viewers using ad blockers

Wikia is not accessible if you've made further modifications. Remove the custom ad blocker rule(s) and the page will load as expected.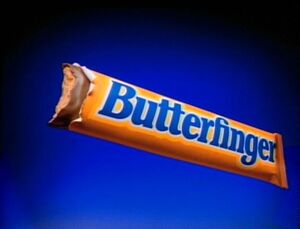 "Nobody better lay a finger on my Butterfinger!"
―Bart Simpson
Butterfinger is a popular peanut-butter and chocolate candy bar. There have been 150 commercials for Butterfinger which featured The Simpsons beginning in 1988, when America's Most Wanted first aired.
Many of the commercials featured Homer trying to get Bart's Butterfinger, but would be one-upped by Bart each time. Each commercial closes with Bart saying the catchphrase, "Nobody better lay a finger on my Butterfinger!". In 1999, this was changed to "Bite My Butterfinger!", then in 2001, it was changed to "Nothing Like a Butterfinger!", beginning in 2010, a slightly rewritten version of the Nobody better lay a finger slogan "Nobody's gonna lay a finger on my Butterfinger!" was introduced.
Most of these advertisements have been released on The Simpsons DVD sets as bonus features along with other commercials.
All Butterfinger commercials were available on iTunes and Netflix. The following is high quality than the VHS versions of these commercials: The Butterfinger Group (1988), Bully - Maggie's Stick (1991), The Karate Lesson (1992), Butterfinger Ice-Cream Bars (1991), Maggie's Party (1992), Bart's Locker (1993), The Raid (1994), The Shrink, Bart's Homework (1994) and Bart's Nightmare (2001).
On April 1, 2013, Butterfinger announced on their Facebook page that Bart Simpson would again be their mascot. Advertising is expected to come later this year. On September 25th of the same year, Butterfinger issued another "Who Stole Bart Simpson's Butterfinger" commercial/contest, this time on the web.
Other commercials
Edit
The Complete Second Season

Butterfinger "No Teasing"
Butterfinger "The Bully"
Butterfinger "The Shock"

The Complete Third Season

Butterfinger "One Less Sister"
Butterfinger "Good Bart, Bad Bart"
Butterfinger "Akira - Best Friend"
Butterfinger "The Big Surprise"
Butterfinger "The Last Butterfinger"

The Complete Fourth Season

Compulsion
Unforgettable Classics
Butterfinger "Beach-Homer With Crabs"
KFC "The Big Steal"

The Complete Fifth Season

Butterfinger "I've Been Robbed"
Butterfinger "Crime of the Century"
T.G.I. Friday's "Homer Simpson"
Ramada Inn "Ramada's In"
THX Trailer

The Complete Sixth Season
The Complete Ninth Season

Butterfinger "Aliens"
Butterfinger "Hit a Homer"
Butterfinger "Philosophy"
CC's Chips Australia "Parachutist"
CC's Chips Australia "Homedini"

The Complete Tenth Season

CC's Chips Australia

Streaker
Cliff Diver
Homer Saw
Hot Foot

Butterfinger

Carnival
Two of a Kind
500 Easy Pieces
Bonecracking
ABC's

Intel "Homer's Smarter Brain"

​The Complete Twelfth Season

Butterfinger "Butterfingeritis"
Butterfinger "Bart's Nightmare"
Burger King "Spaced Homer"
Red Rooster "Loungearama"

The Complete Thirteenth Season

Burger King "Lines Man"
Burger King "Trick or Treat"
Burger King "Springfield Hamburger"
Burger King "Simpsons Watch"
Sabritas

The Complete Fifteenth Season
List of commercials
Edit
So far, Bart appears in every Butterfinger commercial excluding Plastic Underwear.
Image
First Aired
Title
Length
Description

1988
No Teasing
30 seconds

Bart teases Lisa about having the last Butterfinger in the house.

1988
The Butterfinger Group
30 seconds

Milhouse and Bart argue about the existence of The Butterfinger Group.

This is also the very first time Milhouse and Springfield Elementary was shown, but these two wouldn't make their regular debut until Simpsons Roasting on an Open Fire. Beginning in 1988, when America's Most Wanted first aired, Tracey Ullman shorts graphics were shown, so this may be the only time you get to see Millhouse's and Springfield Elementary's design in the shorts.

January 1, 1991
The Bully
30 seconds

Nelson Muntz tries to steal Bart's Butterfinger, but fails to do so.

April 5, 1991
The Bully - Maggie's Stick
30 seconds

A shorter version of The Bully is shown, then followed by a short commerical for the Butterfinger Ice Cream Bars, with Maggie eating Bart's Butterfinger Ice Cream Bar.

April 6, 1991
The Shock
15 seconds

Homer tries to steal Bart's Butterfinger, not knowing it's wired to an electrical current.

April 7, 1991
The Shrink
30 seconds

Dr. Marvin Monroe diagnoses a Butterfinger obsession in Bart, who refuses to share with the doc.

November 2, 1991
Butterfinger Ice Cream Bars
15 seconds
Bart has gotten to Apu's shipment of Butterfinger Ice Cream Bars before everyone else. Apu then throws him out for it.

April 3, 1992
The Big Surprise
15 seconds

Homer wants Bart to give him his Butterfinger, but instead he gets Maggie's pacifier.




November 2, 1992
The Last Butterfinger
30 seconds
Bart and Homer race to get the last Butterfinger in the supermarket. Homer almost had it, but tripped on a cart, giving Bart enough time to catch it.

November 3, 1992

The Karate Lesson - Best Friend
30 seconds

A shorter version of The Karate Lesson is shown, then followed by a short commerical for the Butterfinger Ice Cream Nuggets, where Bart stops Milhouse from eating a Butterfinger Ice Cream Nugget.

November 3, 1992
Angel Bart, Devil Bart
15 seconds
Bart's conscience decides whether he should share or eat his Butterfinger BB's.

December 1, 1992
The Karate Lesson
30 seconds
Akira tries to take Bart's Butterfinger, but Bart stops him by using his karate skills.

December 18, 1992
One Less Sister
15 seconds
Lisa tries to help Bart with his math homework. He says the answer is "one less sister".

January 29, 1993
The Beach
15 seconds
Bart takes Homer's Butterfinger while he's buried under sand.

April 1, 1993
Bart's Locker
30 seconds

At school, Seymour Skinner and Edna Krabappel tries to get Bart's Butterfingers in his locker, but Bart locks them in there. 

June 6, 1992
Maggie's Party
15 seconds
Maggie is having a party and as Homer goes to bring out the Butterfinger Ice Cream Nuggets he finds they are gone because Bart ate them.

September 30, 1993
I've Been Robbed Part One
30 seconds
Someone steals Bart's Butterfingers.

Note: The suspects were Otto, Lisa, Krusty, Nelson, Mr. Burns, and Homer.




October 30, 1993

I've Been Robbed Part Two

Edit
30 seconds
The thief is revealed to be Krusty the Clown.

December 31, 1993
The Dog Biscuit
30 seconds
Bart tricks Homer about eating a dog biscuit during a blackout.

May 1, 1994

The Raid
30 seconds
Bart has a nightmare in which the rest of the cast steals his Butterfinger BB's.

October 1, 1995

Treehouse of Horror: Aliens

30 seconds

Bart has been abducted by Kang and Kodos who are confused about his Butterfinger. Bart then takes them to his leader, Homer, who gets abducted while Bart is set free.

November 12, 1996
The Simpsons Baseball
15 seconds
Bart hits a "Homer" in baseball when Homer tries to steal his Butterfinger.

December 31, 1997
Philosophy

15 seconds

Martin Prince tells Bart to share his Butterfinger BB's with him.

December 30, 1998
Carnival
30 seconds
Homer wants to trade Bart's Butterfinger for a stuffed poodle.

January 1, 1999
Smell Your Breath
15 seconds
Bart won't let Homer have his Butterfinger.

November 30, 1999
A to Z
30 seconds

Bart and Lisa tease Homer with Butterfinger BB's while he's trying to read to Maggie.

December 30, 1999
500 Easy Pieces
15 seconds
Bart watches an Itchy and Scratchy skit entitled "500 Easy Pieces" featuring a Butterfinger bar.

December 31, 1999
Plastic Pants
15 seconds

Grampa is woken by the crunching sound of a Butterfinger eaten by Lisa. This is the only time in the Butterfinger commercial Bart doesn't appear in. However, Lisa does appear in this commercial, rather than Bart.

February 5, 2001
Bart's Nightmare
15 seconds
Bart has a nightmare that the Kwik-E-Mart is out of Butterfingers.

May 1, 2001
Butterfingeritis
15 seconds
Bart discovers that he has a disease called Butterfingeritis.
December 31, 2001 (premiere)
January 1, 2002
Homer Holer
15 seconds
Homer digs a Butterfinger BB.
January 1, 2007
No Teasing (remake of 1988)
30 seconds
Bart gets in trouble for taking his Butterfinger.
February 19, 2007
Itchy & Scratchy: Butterfinger Test
n/a
Itchy does a Butterfinger test.
Bart's Sayings
Edit
"It's Neato!" (1988-1990)
"Nobody better lay a finger on my butterfinger!" (1990-1998)
"Bite my butterfinger!" (1999-2001)
"Nothin' like a butterfinger! (2001-2010)
''Nobody's gonna lay a finger on my butterfinger'' (2010-present)