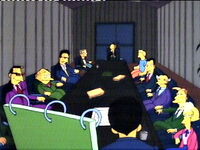 When Mr Burns runs for Governor of Springfield's State against Mary Bailey. The team appears in Two Cars in Every Garage and Three Eyes on Every Fish.
Team
The Leader
The Campaign Team

Speech Writer
Joke Writer
Make up Man
Spin Doctor
Personal Trainer

The Investigators

Muckraker
Character Assassin
Mud Slinger
Garbologist
Ad blocker interference detected!
Wikia is a free-to-use site that makes money from advertising. We have a modified experience for viewers using ad blockers

Wikia is not accessible if you've made further modifications. Remove the custom ad blocker rule(s) and the page will load as expected.