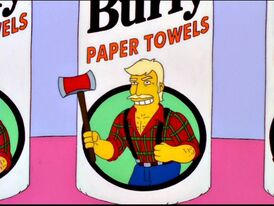 Burly Paper Towels is a very absorbent paper towel brand whose mascot is Burly.
History
When Marge accidentally bought the wrong brand of paper towel, she was going to take it back to the shop, but then she saw the picture of Burly on it and developed a crush on him. She then tested the paper towels and was amazed at how absorbent they were, even calling Lisa out of school to show her. She painted his portrait.
Later, when they needed to drain the water from the Old Quarry in order to find the dead body that had caused Homer to have nightmares. Marge threw in several rolls of Burly and it drained the entire quarry.
Behind the Laughter
Burly is a parody of Brawny Paper Towels.
Appearances
Gallery