Bunk with Me Tonight is a song performed by Lurleen Lumpkin (Beverly D'Angelo) in the episode "Colonel Homer." It was heard again when Lurleen sang it to Kermit in "Papa Don't Leech."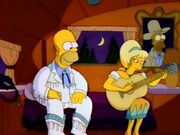 Lyrics
In this trailer, I get so cold and lonely,
Lyin' there awake at night, mutterin' "If only
You weren't married so I might
Ask you to bunk with me tonight."
Bunk with me tonight,
Oh, bunk with me tonight.
I'm askin', will you bunk with me tonight?
Oh, that's hot. There wouldn't be a man alive who wouldn't be turned on by that. Well, goodbye.
Ad blocker interference detected!
Wikia is a free-to-use site that makes money from advertising. We have a modified experience for viewers using ad blockers

Wikia is not accessible if you've made further modifications. Remove the custom ad blocker rule(s) and the page will load as expected.