For the boy with the same name, see Bort (boy).
Bort is a man who once went to the Itchy & Scratchy Land.
History
When Bart was looking for a "Bart" personalized license plate, he instead finds one that says "Bort." To his surprise, there seem to be many people called Bort, like this man and a little boy.[1]
Appearances
Citations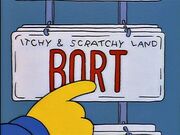 Ad blocker interference detected!
Wikia is a free-to-use site that makes money from advertising. We have a modified experience for viewers using ad blockers

Wikia is not accessible if you've made further modifications. Remove the custom ad blocker rule(s) and the page will load as expected.