Bonfire of the Manatees
Talk

1
13,300 articles being
edited here
Bonfire of the Manatees
Episode Number
357
Production Code
GABF18
Original Airdate
September 11, 2005
Chalkboard Gag
"Does any kid still do this anymore?"
Couch Gag
Marge, Lisa, Bart and Maggie go through a metal detector safely, but Homer sets it off. After three attempts (and removing all but his underwear), Homer is then searched with a scanning wand by a security guard.
Special Guest Voices
Alec Baldwin as Caleb Thorn
Joe Mantegna as Fat Tony
Written By
Dan Greaney
Directed By
Mark Kirkland
Bonfire of the Manatees is the first episode of The Simpsons' seventeenth season. It aired September 11, 2005. It was the first episode to air in September and first non-Halloween episode to start out the season since season 11's "Beyond Blunderdome". The episode was watched by 11.1 million people. Marge leaves her house after discovering Homer was filming a dirty film there, and she meets a man that spends his life saving manatees.
Homer is watching a football game, where he lost a bet due to the Denver Bronchos winning the game, complaining that he didn't bet on what Professor Pigskin told him to bet on. Lisa attempts to warn him that it is a scam, but he doesn't listen and pays them. He later loses another bet in a football game. This time he betted on the Raiders, who were not only looking awful, but were actually composed of drunks because the star players were down with the flu, causing them to be beaten easily. Lisa asks how much money he bet, to which Homer explained that he actually borrowed money from Fat Tony. Fat Tony, at their window, states that they'll "hammer out" a payment plan, which they do... literally, as Fat Tony has Homer restrained by Legs and Louie with Louie hammering Homer's right hand. Unable to repay his gambling debts to the Mafia, Homer is forced to let Fat Tony use the Simpson home as a set for the "gentlemen's film" "Lemony Lick-It's A Series of Horny Events" (although Homer ended up having both hands hammered by the Mafia after Homer, mistakenly thinking that the adult film was a gay pornography film, made the mistake of asking if they were the "gay mafia.") Homer sends Marge, Bart, Lisa and Maggie to "Santa's Village" with tickets supplied to him from Moe to get them out of the way. During production, Lenny and Carl enter the house to get a board game and stumbles on the production of the film. Homer attempts to get them out of the house, but then after Carl asks how Marge allowed him to do the film, Homer bribes them with letting them be in the movie if they don't tell Marge about what's going on (with Carl getting the sex scenes and Lenny being the dirty mouth boy).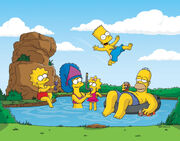 When Marge and the children return sooner (due to leave the Santa Claus Village earlier due to it being a bad experience), they discover what is happening and Marge leaves, leaving Homer alone with the children. Before she can be reconciled with Homer, Marge meets Dr. Caleb Thorn, a good-looking scientist dedicated to saving the endangered manatee. Homer and the kids will stay with their cousins ​​while seeking Marge. Meanwhile, Caleb Homer helps Marge realize that is the same man she fell in love - the only problem is that it still expects it to change. Homer tries to win Marge back by saving a herd of manatees from a gang of jet skiers. He can talk about leaving the gang, but is heard calling them "Pacóvios." The gang turns and starts beating on Homer. Despite his attempts to organize manatees to attack the group, they all flee. Fortunately, cousin of Homer shows a court order that says it is prohibited to those waters. Impressed, Marge states that are taking home "really endangered species: a devoted husband" Homer then puts a manatin as a substitute for the same job, for a week while Homer enjoys the holidays.
Behind the Laughter
Edit
Production
Edit
Al Jean originally pitched the idea of an episode based around the Simpsons rescuing manatees in 2003 during the writers' retreat sessions for The Simpsons Movie. Although not used in the movie, the idea eventually became an episode in its own right. [1]
Reception
Edit
References
Edit