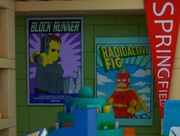 Block Runner is a fictional movie in Springfield.
History
It appears as a poster on the wall of The Android's Dungeon in the episode "Brick Like Me".
Behind the Laughter
The Block Runner poster is based off of one of the movie posters for Blade Runner.
Ad blocker interference detected!
Wikia is a free-to-use site that makes money from advertising. We have a modified experience for viewers using ad blockers

Wikia is not accessible if you've made further modifications. Remove the custom ad blocker rule(s) and the page will load as expected.