Aaaaaaaaaaaaaaaaaaaaaaaaaaaaaaaaaaaaaaaaaaaaaaaa
| | | |
| --- | --- | --- |
| | D'oh! | This article is a stub. You can help the wiki by embiggening it. |
Blarney Castle is a castle in Ireland. It houses the Blarney Stone, which, according to legend, gives the gift of gab to anyone who kisses it.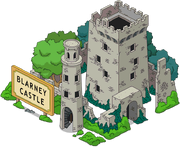 History
Lisa and Marge visited the Blarney Stone at the castle. Bart, seeing a prank opportunity, colored his butt grey and took the place of the stone, so that anyone who was seeking the gift of gab actually ended up (literally) kissing Bart's butt. Unfortunately for Bart, an Irish version of Nelson came along and carved his initials in the "stone," resulting in stabbing Bart's butt off-screen, and the bully laughs, "Har-har!"
Appearances
Ad blocker interference detected!
Wikia is a free-to-use site that makes money from advertising. We have a modified experience for viewers using ad blockers

Wikia is not accessible if you've made further modifications. Remove the custom ad blocker rule(s) and the page will load as expected.