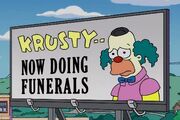 The billboard gag is a new running visual joke that premiered with the updated opening sequence in the season 20 episode "Take My Life, Please". It is one of the many Opening Sequence gags. It consists of an image and some text that is usually related to some person in Springfield. The billboard itself is located next to the statue of Jebediah Springfield. It appears in the opening sequence of many episodes from Season 20 onwards. On "How the Test Was Won", it showed a picture of Milhouse stating that he was lost. However, in the part of the theme where Lisa is in her band, Milhouse is there, not lost.
See Also
Ad blocker interference detected!
Wikia is a free-to-use site that makes money from advertising. We have a modified experience for viewers using ad blockers

Wikia is not accessible if you've made further modifications. Remove the custom ad blocker rule(s) and the page will load as expected.