"Bite my shiny metal ass!"
―Bender's catchphrase
"A robot! With a catchphrase!"
―Homer's reaction to his catchphrase
"Kill all humans!"
"Start with Flanders!"
―Homer's reaction to this catchphrase
Bender Bending Rodríguez
, better known as just
Bender
is a robot and one of the main characters from
Matt Groening
's other series,
Futurama
. In Futurama, he is voiced by
John DiMaggio
and plays the role of a comic anti-hero, and is described as an "alcoholic, whore-mongering, chain-smoking gambler".
He was a phone operator of the FOX, along many other FOX characters.[1] When Bart is sleep deprived in class, he hallucinates his class mates turning into characters from TV shows he had been staying up watching, one of which (Richard) is Bender.[2]
In the future, after Homer and Bart drive through a Quantum tunnel, he appears between them and says "All right! You guys are my new best friends". Homer says "You wish, loser!" and throws him out of the car.[3]
He appears as one of the enemies in "The Simpsons Game", along with Zoidberg, in the level "Five Characters in Search of an Author", in which he is drawn by Matt Groening and will attack Homer and Bart by throwing beer bottles at them, most of them wear a chef's apron and hat for his compassion for cooking.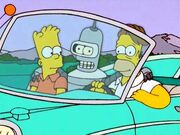 Appearances
Gallery
Citations
External links
Ad blocker interference detected!
Wikia is a free-to-use site that makes money from advertising. We have a modified experience for viewers using ad blockers

Wikia is not accessible if you've made further modifications. Remove the custom ad blocker rule(s) and the page will load as expected.