Bart Simpson Peanut Butter Chocolate Crunch Cereal
Talk

0
Share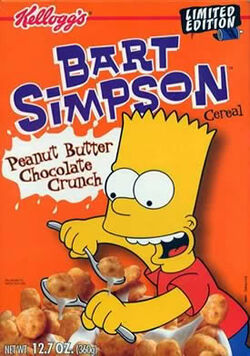 Bart Simpson's Peanut Butter Chocolate Crunch Cereal was a cereal. Kellogg's released these and another cereal called Homer's Cinnamon Donut Cereal. They were sold in the U.S. in 2001 and 2002.
They contain peanut butter chocolate crunch cereal.
See Also
Ad blocker interference detected!
Wikia is a free-to-use site that makes money from advertising. We have a modified experience for viewers using ad blockers

Wikia is not accessible if you've made further modifications. Remove the custom ad blocker rule(s) and the page will load as expected.