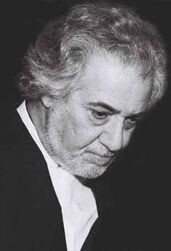 Arthur B. Rubinstein (born March 31, 1938) is an American composer. He scored the music for the episodes "Bart Gets an "F"" and "Two Cars in Every Garage and Three Eyes on Every Fish" of The Simpsons. He has composed music for over 100 film and television productions including Blue Thunder (1983) and The Hard Way (1991).
Credits
External links
| | | |
| --- | --- | --- |
| | D'oh! | This article is a stub. You can help the wiki by embiggening it. |
Ad blocker interference detected!
Wikia is a free-to-use site that makes money from advertising. We have a modified experience for viewers using ad blockers

Wikia is not accessible if you've made further modifications. Remove the custom ad blocker rule(s) and the page will load as expected.