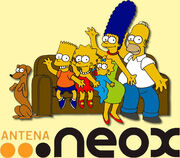 Antena Neox popularly known as "Neox" is a Spanish television, a division of "Antena 3"m in which various children/youth programs from "Antena 3" are shown, including "The Simpsons". The show is shown everyday.
Programming
Monday; Wednesday and Thursday: 21:00 to 22:00
Tuesday: (see "La Noche de Los Simpson ")
Friday; Saturday and Sunday: from 21:00 to 22:30
Specials
La Noche de Los Simpson
   Each tuesday since 2012, there is a special entitled "La Noche de Los Simpson" (The Simpsons' night) in which are shown episodes from 21:00 to 24:00.
La noche más animada
Previously (from 2009 to 2011). There was a special only the summers called "La Noche más animada" (The most animated night) in which there was the same but with episodes of "The Cleveland Show"; "American Dad"; "Futurama" (replaced by "Family Guy" from 2010 to 2011) and "The Simpsons".
See also