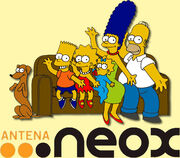 Neox (formerly known as Antena.Neox) is a Spain television channel which currently broadcasts The Simpsons in Spanish. It is also a division of Antena 3, which also currently broadcasts the show.
Besides showing children's programming in the morning and films and series for youngsters in the evening and night, Neox not only gears other international successful series, but also builds on Antena 3's most popular international programming, like The Simpsons.
Programming
Monday, Wednesday and Thursday: 21:00 (9:00pm) to 22:00 (10:00pm)
Tuesday - (see "La Noche de Los Simpson ")
Friday, Saturday and Sunday: from 21:00 (9:00pm) to 22:30 (10:30pm)
Specials
La Noche de Los Simpson
Since 2012, on Tuesdays, there is a special entitled "La Noche de Los Simpson" (The Simpsons' Night), in which it shows episodes from 21:00 (9:00pm) to 24:00 (12:00am).
La noche más animada
From 2009 to 2011, there was a special that only broadcasted in Summer entitled "La Noche más animada" (The Most Animated Night), in which not only broadcasts episode of The Simpsons, but also broadcasts episodes of The Cleveland Show, American Dad!, and Futurama (replaced by Family Guy from 2010 to 2011).
See also