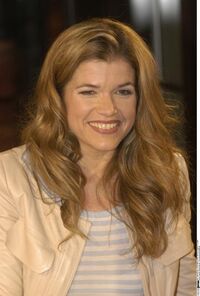 Anke Christina Fischer (née Engelke; born 21 December 1965 in Montréal) is a German comedian and voice actor who provides the German voice of Marge Simpson from the 17th Season episode "My Fair Laddy" to present.
Biography
Engelke moved to Cologne in 1971 with her parents. Early on she exhibited singing talent, and was discovered in 1978 by Georg Bossert at a performance of her school's choir. From 1979 to 1986, she was the presenter of the daily children's television show broadcast from a German radio exhibition held every other year in Berlin, and the weekly children and youth's sports magazine show Pfiff. From 1978 to 1980, she hosted the show Moment mal ("Wait a minute") on RTL. SWF3 first brought her on board in 1986 as an editor; later on, she was the presenter there until 1998.
From 1994 to 2000, Engelke was married to keyboardist Andreas Grimm with whom she has a daughter, Emma Renee. From 1996 to 2000, she played with, among others, Ingolf Lück on Die Wochenshow on Sat.1, a rather famous comedy TV program in Germany at the time. In December 2003, Engelke provided the voice of the fish Dory in the German-language version of the computer-animated film Finding Nemo, which is voiced by Ellen DeGeneres in the English-language version. She also provided the voice of Jane Porter in the German-language version of the Disney movie Tarzan, who is voiced by Minnie Driver in the original version.
Engelke became the new German dubbing voice for Marge Simpson after her predecessor, actress Elisabeth Volkmann, who had voiced the character for over 15 years, died unexpectedly in the summer of 2006. Engelke first synchronized in the episode "My Fair Laddy", which was aired on January 21, 2007, in Germany.
Performance
Engelke does sound significantly different than her predecessor. She was interviewed several times about this and repeatedly said that she wished to sound more like Julie Kavner, the original American voice actress. Fans of the series in Germany do have different opinions whenever or not this is a good decicion and if Engelke is superior to Elisabeth Volkmann.
Characters
Gallery
External links