Angry Birds
, parodied as
Furious Fliers
, first appear in
The Food Wife
. They're giant and get shot at a Children's Hospital Construction instead of hitting bean bag pigs. Angry Birds is the Top Rated game on the iPod and iPhone. It features pigs and birds in the game,having 500,000,000,000 downloads is the most popular game!!! Angry Birds have four games Angry Birds, Angry Birds Seasons, Angry Birds Rio, Angry Birds Space and Angry Birds Star Wars. Angry Birds is a cameo in Rio the movie. Angry Birds in the Simpsons are green and the pigs are red. Angry Birds are seen at the first few minutes of The Food Wife at the Video game convention.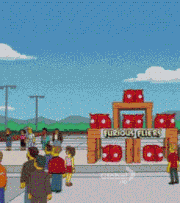 Ad blocker interference detected!
Wikia is a free-to-use site that makes money from advertising. We have a modified experience for viewers using ad blockers

Wikia is not accessible if you've made further modifications. Remove the custom ad blocker rule(s) and the page will load as expected.