Angelica Button and the Mystery of Secrets is a fantasy book from Angelica Button series written by T. R. Francis.
History
Lisa owns the book. After learning the truth about writing the series, she wishes to burn it, along with her other Angelica Button books.
There is also a poster of T. R. Francis holding the book in the bookshop.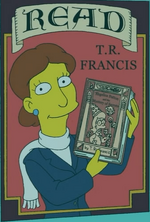 Behind the laughter
Appearances