Angelica Button and the Deadly Denouement is the final volume in the Angelica Button series by T. R. Francis. The Simpsons attended the midnight release of the book and dressed up in costumes of the characters from the book. Nelson seems to like the book and is seen punching Martin, demanding that he reads to book to him (along with character voices). On their way home, Lisa reads the highlights in the car. After the family shouts "YAY!" at the story's ending, they all throw their books out the window, where they land and crack the road.  
Plot of the book
Some "spoilers" from the book:
The Withered Troll makes an appearance.
There is a Torcher Chamber. 
Angelica Button's first kiss appears in the book.
There is a subplot about her cat.
Professor Skizzletwitch isn't a Were-bear.
Malicious Krubb is actually Kraluicious Mubb.
All seems lost.
"Magic, magic, magic..." (according to Lisa).
Angelica uses the spell she learned in chapter six.
The story (as well as the whole series) ends with: "All is well".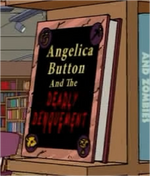 Behind the Laughter
Appearances