American Breast Enthusiast is a porno magazine.
History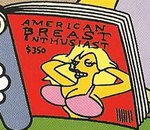 Sideshow Bob slipped away from a prison detail, stole an atomic bomb, and hid out at a nearby Air Force base. When the authorities looked for him at the base they found only some porno magazines: Granny Fanny, Cheek Week and American Breast Enthusiast. When Krusty came over to the base, he liked that they had the magazines.
Trivia
Some copies of Playdude in the show look similar to American Breast Enthusiast but with a woman with a different color scheme.
Appearances
Ad blocker interference detected!
Wikia is a free-to-use site that makes money from advertising. We have a modified experience for viewers using ad blockers

Wikia is not accessible if you've made further modifications. Remove the custom ad blocker rule(s) and the page will load as expected.