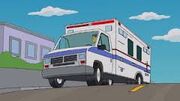 A
mbulances
are used by
Springfield General Hospital
in emergency cases.
History
One took Homer to hospital after failing to skateboard over the Springfield Gorge. This then crashed into a tree and was left there for some time, seen again during the events of Trappuccino. Homer briefly owned his own ambulance.
Games
The Simpsons: Hit & Run
The Ambulance in the game is shown in the traffic of level 5. Designed with Springfield General Hospital on the side. You can even unlock this vehicle in a cheat in the other levels you can drive around in.
Gallery
Appearances
Ad blocker interference detected!
Wikia is a free-to-use site that makes money from advertising. We have a modified experience for viewers using ad blockers

Wikia is not accessible if you've made further modifications. Remove the custom ad blocker rule(s) and the page will load as expected.