Almond Joy is a type of candy.
History
When Apu Nahasapeemapetilon was suggesting ideas for a food gift for Juliet Hobbes, he thought of Almond Joy. Lisa liked it, so she bought it, much to Bart's anger, because she had refused all of his suggestions before.
Behind the Laughter
Almond Joy is a real type of candy.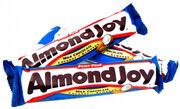 Apperances
External links