Almond Joy is a type of candy.
History
When Apu Nahasapeemapetilon was suggesting ideas for a food gift for Juliet Hobbes, he thought of Almond Joy. Lisa liked it, so she bought it, much to Bart's anger, because she had refused all of his suggestions before.
Behind the Laughter
Almond Joy is a real type of candy.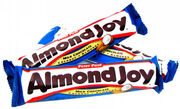 Apperances
External links
Ad blocker interference detected!
Wikia is a free-to-use site that makes money from advertising. We have a modified experience for viewers using ad blockers

Wikia is not accessible if you've made further modifications. Remove the custom ad blocker rule(s) and the page will load as expected.