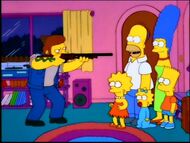 All Right, Marge is the last wraparound song that the Simpsons sing to conclude "All Singing, All Dancing". The music was written by Alf Clausen and the lyrics by Steve O'Donnell.
Lyrics
All right, Marge,
You've convinced me.
There are more terrible things
Than musical comedies
Where everyone sings.
(Lisa, Bart and Maggie form a kick line)
Lisa:
There is something worse.
Bart:
And it really does blow.
The Simpsons:
When a long-running series...
The Simpsons and unseen choir:
Does a cheesy clip show!!!!!!
Bravo, Bravo.
I'm back to commit
Felonious assault
Because your infernal singing
Just would not halt.
Actually, we're done.
Bart:
Done done.
Homer:
And not a moment too soon.
Snake:
Oh, okay, then. Then I got no beef with you. Ha.
Ad blocker interference detected!
Wikia is a free-to-use site that makes money from advertising. We have a modified experience for viewers using ad blockers

Wikia is not accessible if you've made further modifications. Remove the custom ad blocker rule(s) and the page will load as expected.