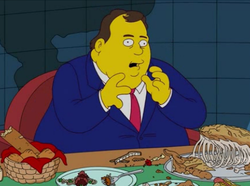 Alex Jones in an American radio host that exposes the New World Order. David Icke has appeared on his channel as well. He has two websites , Infowars and PrisonPlanet. 
Plot
In Homer's dream , Homer is in Springfield Republican Headquaters and
Mr. Burns
 tells homer to choose a candidate. Then Alex Jones is holding a chicken drumstick , saying " Save me Obamacare , which is Alex Jones' word for National Health Service.                                                  
Ad blocker interference detected!
Wikia is a free-to-use site that makes money from advertising. We have a modified experience for viewers using ad blockers

Wikia is not accessible if you've made further modifications. Remove the custom ad blocker rule(s) and the page will load as expected.