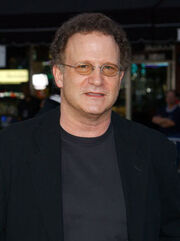 Albert Lawrence Brooks (born Albert Lawrence Einstein; July 22, 1947) is a comedian, actor, writer, and director. He has been a frequent guest voice on The Simpsons since the first season, and he has always been billed as "A. Brooks" on the credits. Brooks was credited in the "also starring" section until "You Only Move Twice" in season 8, where he was accorded "Special Guest Voice" status for his portrayal of Hank Scorpio. His most recent Simpsons role was the antagonist of The Simpsons Movie, Russ Cargill. He once played Jacques in Life on the Fast Lane.
Brooks' other accomplishments include a resident film maker for the first season of Saturday Night Live, acting roles in the movies Taxi Driver, Private Benjamin, Unfaithfully Yours, and Broadcast News (for which he received an Academy Award nomination) and starring, directing, and writing several films, including Real Life, Lost in America, Defending Your Life, Mother, The Muse, and Looking for Comedy in the Muslim World. Outside of The Simpsons, his voice credits include the tiger in Dr. Dolittle and Marlin in Finding Nemo.
Credits
Also Starring
Special Guest Voice
Starring
Also starring
External links
Ad blocker interference detected!
Wikia is a free-to-use site that makes money from advertising. We have a modified experience for viewers using ad blockers

Wikia is not accessible if you've made further modifications. Remove the custom ad blocker rule(s) and the page will load as expected.