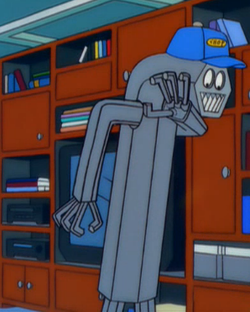 Alan Wrench is a mascot for SH0P.
History
Bart commented that his costume was cool. Alan then said "It's not a costume they found me inside a meteor.". After Marge asked where the hamper lids are, he approaches Bart saying "Help I need tungsten to live! Tungsten!".
Appearances
Ad blocker interference detected!
Wikia is a free-to-use site that makes money from advertising. We have a modified experience for viewers using ad blockers

Wikia is not accessible if you've made further modifications. Remove the custom ad blocker rule(s) and the page will load as expected.