"Agent Malone, Environmental Protection Agency"
―Agent Malone
Agent Malone works for the Environmental Protection Agency.
Biography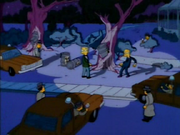 One night, Mr. Burns and Mr. Smithers dumped nuclear waste in the Springfield Park. Agent Malone was assigned to figure out who did it. He was tipped off by Boy Scouts and came in with some of his fellow EPA agents, shortly finding and captures Mr. Burns and Smithers. At court, Mr. Burns is tried and found guilty, being fined $3,000,000.
Appearances
Ad blocker interference detected!
Wikia is a free-to-use site that makes money from advertising. We have a modified experience for viewers using ad blockers

Wikia is not accessible if you've made further modifications. Remove the custom ad blocker rule(s) and the page will load as expected.