Admiral Baby
is a comedy that appears on
FOX
. It appears to be about a baby as an admiral commanding the entire sixth fleet to go to Candy Island. It was placed into the
Mid-season lineup
. When the Simpson family saw it, the entire family was disappointed at the poor quality of the show, causing even Homer to remark that it was "a bit stupid." When Homer watches old shows on his treadmill he decides not to watch Admiral Baby.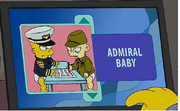 Appearances
Ad blocker interference detected!
Wikia is a free-to-use site that makes money from advertising. We have a modified experience for viewers using ad blockers

Wikia is not accessible if you've made further modifications. Remove the custom ad blocker rule(s) and the page will load as expected.