Adequate is a song sung mainly by Groundskeeper Willie in the episode "My Fair Laddy". It is a parody of the song "Wouldn't It Be Loverly?" from the musical My Fair Lady. The music was written by Alf Clausen and the lyrics by Michael Price. It is part of the thirtieth track on the album The Simpsons: Testify.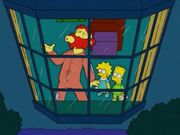 Lyrics
Lisa:
Willie, I hope I'm not being too personal, but you seem resigned to a life of abject squalor.
Groundskeeper Willie:
Ma fam'ly's used to it. Me granfather used to get sent down into th' mines to make sure it was safe fer th' canaries.
Lisa:
Don't you ever hope for anything better?
Groundskeeper Willie:
Sumthin' better? For Willie?
All I want
Is a place sumwhere.
(pause)
Lisa:
Annnnnd?
Groundskeeper Willie:
That's it.
Bart:
Maybe you could aim a little higher.
Groundskeeper Willie:
Well, let's see.
Oh, to have me shack rebilt,
Git my rotten teeth all drilt.
Sumthing on underneath me kilt.
Oh, wouldn't it be adequate?
Matching shoes for both me feet,
Dining on untainted meat,
A toilet wot still has its seat.
Oh, wouldn't it be adequate?
Lisa and Bart:
Adequate, adequate.
Groundskeeper Willie:
Oh, wouldn't it be adequate?
Hmm, yer right, Lisa. I do want ta better me lot. To live like a normal li-
Bart:
Heeeeey, that's great, good night.
Ad blocker interference detected!
Wikia is a free-to-use site that makes money from advertising. We have a modified experience for viewers using ad blockers

Wikia is not accessible if you've made further modifications. Remove the custom ad blocker rule(s) and the page will load as expected.