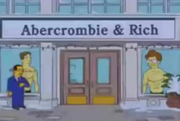 Abercrombie & Rich,
an obvious parody of Abercrombie & Fitch, is a store at the
Springfield Heights Promenade
. The Simpsons do not visit the store while Christmas shopping. Not much is known about the store. It is most likely a clothing store like the very popular Abercrombie & Fitch clothing stores.
In The D'oh-cial Network, the Towne Centre at Springfield Glenne has an Abercrombie & Fitch parody called Abercrombie & The Other Guy.
Appearances
Gallery
Ad blocker interference detected!
Wikia is a free-to-use site that makes money from advertising. We have a modified experience for viewers using ad blockers

Wikia is not accessible if you've made further modifications. Remove the custom ad blocker rule(s) and the page will load as expected.