A Chorus Line is a musical number that the cast performs with their insides turned out in the Nightmare Cafeteria segment of "Treehouse of Horror V". It is a parody of the song "One" from the hit long running Broadway show, A Chorus Line.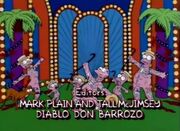 Lyrics
Cast:
One...
Chorus line of people
Dancing till they make a stop.
Two/Too...
Cast:
..Many dancing people
Covered with blood, gore and glop.
Just
One
Sniff of that fog and you're inside out
It's worse than that flesh-eating virus you've read about
Vital organs, they are what we're dressed in
The family dog is eyeing Bart's intestine
Happy Halloween!
Ad blocker interference detected!
Wikia is a free-to-use site that makes money from advertising. We have a modified experience for viewers using ad blockers

Wikia is not accessible if you've made further modifications. Remove the custom ad blocker rule(s) and the page will load as expected.