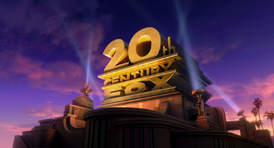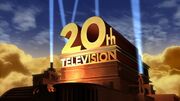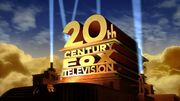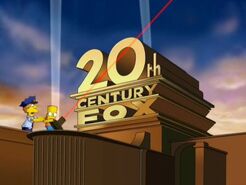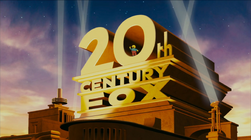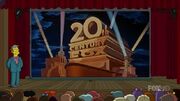 Twentieth Century Fox Film Corporation, or 20th Century Fox, is a company which broadcasts The Simpsons. It, along with the FOX Network, has been referenced many times in the show. It is a subsidiary company of 21st Century Fox. and is owned by Rupert Murdoch. The Simpsons have taken many swipes at their home network. FOX is part of the MPAA. In 2013, the byline was removed since the logos from 1935 to 1994. In December 14, 2017 Disney brought 21st Century Fox for 52.4 Billion dollars.
Citations
Episode – "Kamp Krusty" Not exactly implied, but:
Bart: I just want the whole world to know that this was a really crappy camp. Can I say crappy on TV?
Kent Brockman: Yes, on this network, you can.
Episode – "Cape Feare" When remarking about how Rainier Wolfcastle's talk show was horrible, Lisa mentions that the FOX network has sunk to a new low.
Episode – "Krusty Gets Kancelled" When Krusty identifies Luke Perry as being Krusty's "worthless half brother" and Lisa explains that Perry is a big TV star, Krusty scoffs that he is one... on FOX.
Episode – "Mr. Plow" While waiting for his "Mr. Plow" commercial to air on Public Access, Homer comments "It may be on a lousy channel, but the Simpsons are finally on TV!"
Episode – "Marge in Chains" When the Osaka flu hits the Flanders, Ned Flanders flashes back to what he could've done to deserve punishment: watching "Married..... with Children" and actually laughing at it! In the present, Ned says "Oh, the network slogan is true! Watch Fox and be damned for all eternity!"
Episode – "Lisa vs. Malibu Stacy" Lisa doesn't want to watch Fox, because they own chemical weapon plants in Syria.
Episode – "Deep Space Homer" At the end Bart imagines Homer as the Star Child from 2001: A Space Odyssey getting hit with a Fox Network satellite. Also, a NASA employee points out popular personalities on television by using "Married..... with Children's" Peg complaining to Al about sex and Al flushing the toilet.
Episode – "Bart Gets an Elephant" Mr. Blackheart's past profession includes Fox Network President.
Episode – "Sweet Seymour Skinner's Baadasssss Song" During the couch gag Homer spots the Fox logo and peels it off and him and his family step on it.
Episode – "Bart of Darkness" When Bart tells Homer Ned Flanders killed Maude, Homer replies nobody would kill her because she is a fox and Marge looks at Homer making Homer say, "What is on Fox tonight?"
Episode – "Lisa's Wedding" Future Marge is watching TV in and remarks "Fox turned into a hardcore sex channel so gradually, I didn't even notice."
THOH – "Treehouse of Horror VIII" At the beginning, a FOX censor named Fox Censor is seen cutting out various scenes from the show, only to be stabbed to death by the TV-rating box.
Episode – "The Joy of Sect" The family is brainwashed at the end by the FOX network.
Episode – "Homer to the Max" The family watches FOX's Mid-Season show lineup, then finds some of the shows terrible.
Episode – "Thirty Minutes Over Tokyo" Homer makes various investments on a computer at the "Java Server". Upon learning that one of his investments was FOX, he quickly undoes his action. Also, during the TCFTV logo in this episode Homer yells "AHH!UNDO! UNDO! OH!"
Episode – "Missionary: Impossible" Fox Network president Rupert Murdoch appears as a telephone operator at the end.
Episode – "HOMR" When listening to the stock placements over the phone, Homer mentions the word "crap" and is told FOX's stock, which is down by 8 points.

Episode – "The Frying Game" Carmen Electra appears as a co-host of Fox's new reality show, Frame Up, and announces that it's Fox's latest hit, right after No-Pants Island and Fart Date.
Episode – "The Heartbroke Kid" Homer owns a plush doll named Foxy the FOX Network Fox that wears a shirt with the Fox Network logo.
Episode – "Million Dollar Abie" The Simpsons are watching the newest Fox series Boobs staring Carmen Electra as a teacher who has big boobs and gets no attention because of them.
Episode – "The Complete Tenth Season" The theme of the set is Bart wreaking havoc in the 20th Century Fox studio lot.
Episode – "You Kent Always Say What You Want" Lisa asks how the Fox Network can be conservative if they air raunchy shows.
The Simpsons-in 3D-on Ice - Near the end of the episode the family is upset that there was no figure skating to which Bart responds "Stupid lying FOX!".
– The Simpsons Movie Ralph stands on the 20th Century Fox logo at the beginning of the movie and says 'Da da da da' in time to the rhythm.
Episode – "MoneyBART" In the couch gag, the shot zooms out to reveal that sweatshop is contained within a grim version of the 20th Century Fox logo, surrounded by barbed wire, searchlights, and a watchtower!
Simpsorama: The 20 in the logo gets changed to a 30 in reference to Futurama.
Episode – "Cue Detective" The 1956 "Standard 0" logo is seen in the film of Doctor Dolittle in Springfield Elementary.
External links